Back to Love - City Soul Choir
Friday Dec 1st & Saturday Dec 2nd at 7:30 pm
Canadian Memorial Church (15th and Burrard)
The City Soul Choir and music director, Karla Mundy, present an evening of music that will move you, ignite your heart, kickstart joy into your being, and get you BACK TO LOVE!

The seasons shift and the light changes. We start new things, we harvest what grew. We get into a groove, create a rhythm and dig into routine. Days get shorter and darken. We know there's more work to do - in our lives, with one another and the dear planet. So just in the nick of time,

comes along a concert this December to keep your heart lit, your body fit and your soul doing front flips like John Belushi down the church aisle in the Blues Brothers!

Under the soul-energized, riveting dynamic expertise of director Karla Mundy and her million watt smile, with her right hand man the ever-incredible piano playing of Michael Creber (who is known to give us CreberFever) and band! Then belting and cooing with the right amount of precision and abandon- City Soul Choir are gonna get you Back To Love!

There's no better time to get Back to Love! Grab your tickets and tell two friends because you are in for a FEAST! Featured on the menu are songs from all over - from iconic American artists like Curtis Mayfield & Dolly Parton to contemporary R and B artist Lianne Le Havas. We are featuring gorgeous Nigerian pieces and we have powerful new gospel music from Chicago's one and only Lonnie Norwood! You will also hear the poignant messaging in Minnesota songwriter Sarina Partridge's song and of course the Brand New Heavies- a funk acid jazz band from London big in the '90's whose song is such a banger that it had to be the name of the concert!

This is music fire up your heart. Songs that makes you wanna rise up and sing yourself. Songs that remind you of life's gifts.

Good thing you can have a second helping - the concert is happening- not one, but two nights.

Friday December 1, 2023 & Saturday December 2, 2023 at 7:30pm.

Canadian Memorial United Church1806 West 15th Ave, Vancouver, B.C. Corner of 15th and Burrard.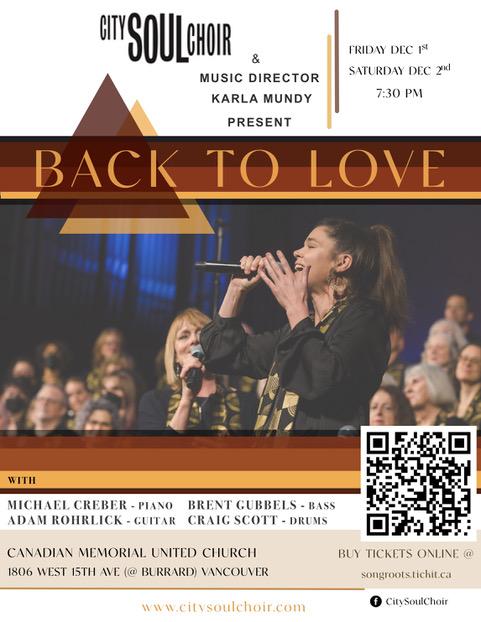 Would you like to AUDITION for City Soul Choir?
The choir is now full! We will not be auditioning new singers (unless you are a strong tenor!) If you are interested in auditioning in the future, please email citysoulauditions@gmail.com and visit this page to fill out the application. APPLICATION FOR NEW SINGERS
WATCH
Music video
of Brian Tate's 'Take Down These Walls', by Vesta Giles. This video has been selected for the Toronto Film Festival and the Orlando Film Festival!
BRIAN TATE: 10 YEARS OF JOY!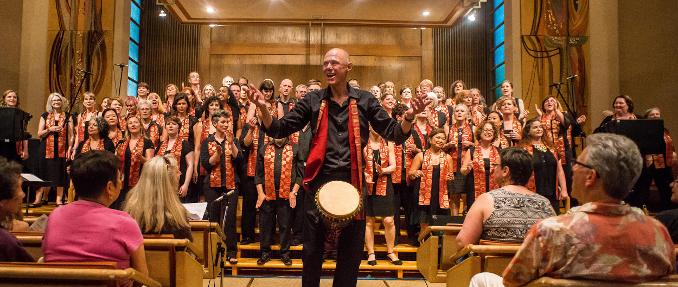 When City Soul Choir sings, an earth-shaking vibration of joy hits the listener. The power and energy of this group of talented musicians is very heavy.
- Tom Arntzen
What a great evening! Recently, I heard the City Soul Choir, conducted by Brian Tate, in a concert of songs that was both moving and a joy to hear! Brian and Patricia Tate have created in the City Soul Choir one of the most exciting musical programs Vancouver has to offer.
- Leon Bibb
The City Soul Choir has the power to draw you in close...everyday people find their extraordinary voices, and what a pleasure that is to behold.
- Marc Lindy, Homegoing Brass Band
Want a taste of City Soul Choir's soul, gospel, pop grooves? Listen . . .


A Tribute to the Queen of Soul.mp3
The CSC in Oakland! Ready For Joy and Make Me Over.