City Soul Choir - 2022/2023 Season
CONCERTS - Dec 9th and 10th at 7:30 pm at Canadian Memorial Church
The City Soul Choir and music director, Karla Mundy, are thrilled to be singing together for this upcoming season. After a joyous return to 'in person' singing in 2021/2022, we are looking forward to building on that momentum, welcoming new & returning members and diving deep into a new set of songs. This year we will be working with several guest artists from Canada, the US and South Africa and will be presenting concerts in December, March and May. Stay tuned for more info...
Would you like to AUDITION for City Soul Choir?
We will be auditioning new singers (especially TENORS) during the summer of 2022! We are looking for dedicated, fun, soulful singers who are ready to commit to a wonderful choir and singing community. If you are interested, please email citysoulauditions@gmail.com and visit this page to fill out the application. APPLICATION FOR NEW SINGERS
WATCH
Music video
of Brian Tate's 'Take Down These Walls', by Vesta Giles. This video has been selected for the Toronto Film Festival and the Orlando Film Festival!
BRIAN TATE: 10 YEARS OF JOY!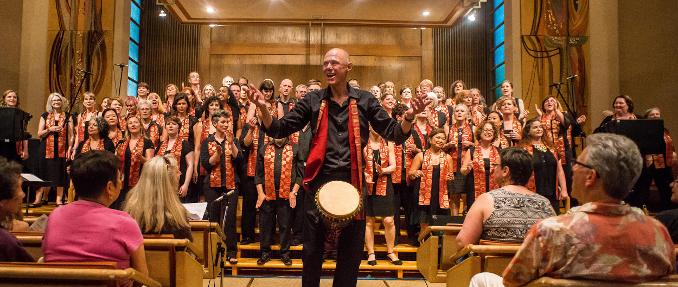 When City Soul Choir sings, an earth-shaking vibration of joy hits the listener. The power and energy of this group of talented musicians is very heavy.
- Tom Arntzen
What a great evening! Recently, I heard the City Soul Choir, conducted by Brian Tate, in a concert of songs that was both moving and a joy to hear! Brian and Patricia Tate have created in the City Soul Choir one of the most exciting musical programs Vancouver has to offer.
- Leon Bibb
The City Soul Choir has the power to draw you in close...everyday people find their extraordinary voices, and what a pleasure that is to behold.
- Marc Lindy, Homegoing Brass Band
Want a taste of City Soul Choir's soul, gospel, pop grooves? Listen . . .


A Tribute to the Queen of Soul.mp3
The CSC in Oakland! Ready For Joy and Make Me Over.