CHOIR IS BACK!
After 18 months of Zoom Choir and virtual learning, City Soul Choir is thrilled to be resuming in person rehearsals in Sept 2021! We are meeting with reduced numbers and with lots of Covid safety protocols in place. We can not wait to get to hear our voices ring together again and proceeding with caution, optimism and gratitude.
For now, we do not have any concerts planned but we are considering some outdoor performance opportunities. We are monitoring the Covid situation and will plan performances accordingly.
As we are meeting with reduced numbers, we are not currently auditioning new members but we will be once the Covid situation improves. We will revisit our plans in Jan 2022 and Sept 2022.
The City Soul Choir has found its new Music Director! Welcome, Karla Mundy!
The CSC is thrilled to announce that Karla Mundy is its new Music Director! Brian Tate couldn't be happier to leave the choir in such capable hands. Karla brings great energy, musicianship, humour and more--everything the choir could hope for in a new Music Director. Congratulations, Karla!
WATCH
Music video
of Brian Tate's 'Take Down These Walls', by Vesta Giles. This video has been selected for the Toronto Film Festival and the Orlando Film Festival!
BRIAN TATE: 10 YEARS OF JOY!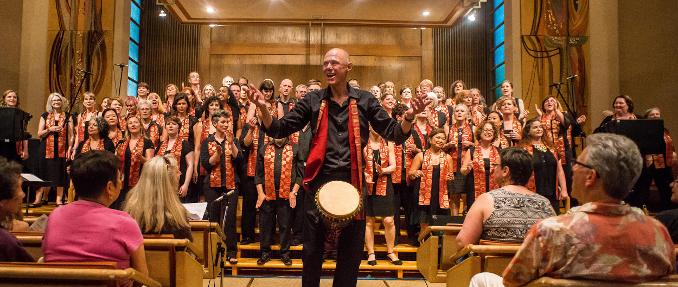 When City Soul Choir sings, an earth-shaking vibration of joy hits the listener. The power and energy of this group of talented musicians is very heavy.
- Tom Arntzen
What a great evening! Recently, I heard the City Soul Choir, conducted by Brian Tate, in a concert of songs that was both moving and a joy to hear! Brian and Patricia Tate have created in the City Soul Choir one of the most exciting musical programs Vancouver has to offer.
- Leon Bibb
The City Soul Choir has the power to draw you in close...everyday people find their extraordinary voices, and what a pleasure that is to behold.
- Marc Lindy, Homegoing Brass Band
Want a taste of City Soul Choir's soul, gospel, pop grooves? Listen . . .


A Tribute to the Queen of Soul.mp3
The CSC in Oakland! Ready For Joy and Make Me Over.