About the choir

The City Soul Choir is a secular Vancouver community choir led by music director Brian Tate. The idea to launch the choir was officially hatched by a group of friends in January 2010, and a month later, the choir had 120 auditioned singers.

The City Soul Choir's repertoire is drawn from the soulful music of many traditions: spirituals, gospel, pop, R&B, world, and more. This is joyful music that uplifts, inspires, transforms. The choir produces two concerts per year: one in late spring and another in December. Sometimes other performances arise during the season. See upcoming concert information on the home page.
About the music director
An award-winning composer, as well as an accomplished and versatile musician, choir director, and educator, Brian attributes the success of his multifaceted career to a love of working with people and a passion for the arts.
Brian received his Bachelor of Music degree from the University of British Columbia, and went on to further music studies in London, England, and Toronto. His love for music of many kinds has led to a diverse career that includes orchestral and choral conducting and performing, musical theatre, and composing music for film, television, stage, and the concert hall. Brian has twice received Vancouver's Jessie Richardson Award for original theatre music, and his choral music is performed worldwide.
As a vocalist, Brian performs with a jazz quartet (BTQ), and with Dawn Pemberton and Karla Mundy in the vocal a cappella trio, TriVo.

Brian is known for his lively choir workshops, precise conducting skills and ability to bring out the best in choirs, and for his exhilarating and inspiring choral compositions and arrangements. He is on the faculty of Studio 58, Langara College's professional theatre school. Brian is also a learning leader for the Next Institute, where he uses music, theatre, and cartooning as tools for organizational training.

Michael Creber, one of Vancouver's top pianists and an all-around swell guy, is the choir's resident accompanist.

Patti Powell, a well-loved CSC singer and great soloist, is Brian's assistant conductor. Patti also leads her own community choirs in Vancouver.

PATTI POWELL, ASSISTANT CONDUCTOR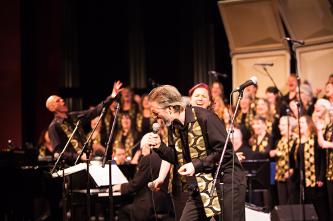 Having experienced Brian Tate's musical leadership and musicianship on a number of occasions, I can testify that he brings exceptional energy and passion to the task. Brian doesn't just provide musical leadership. He becomes the music, embodying the message of peace, justice, and love in a way that is positively contagious. This is a man of deep integrity, whose music is driven by a deep purpose of personal and social transformation.
- Bruce Sanguin, Author, Speaker on Spirituality and the Environment, former minister at Canadian Memorial Centre for Peace
BRIAN TATE, MUSIC DIRECTOR