Tickets for STAYED ON FREEDOM go on sale online at Brown Paper Tickets on Monday, December 18th. These make great holiday gifts!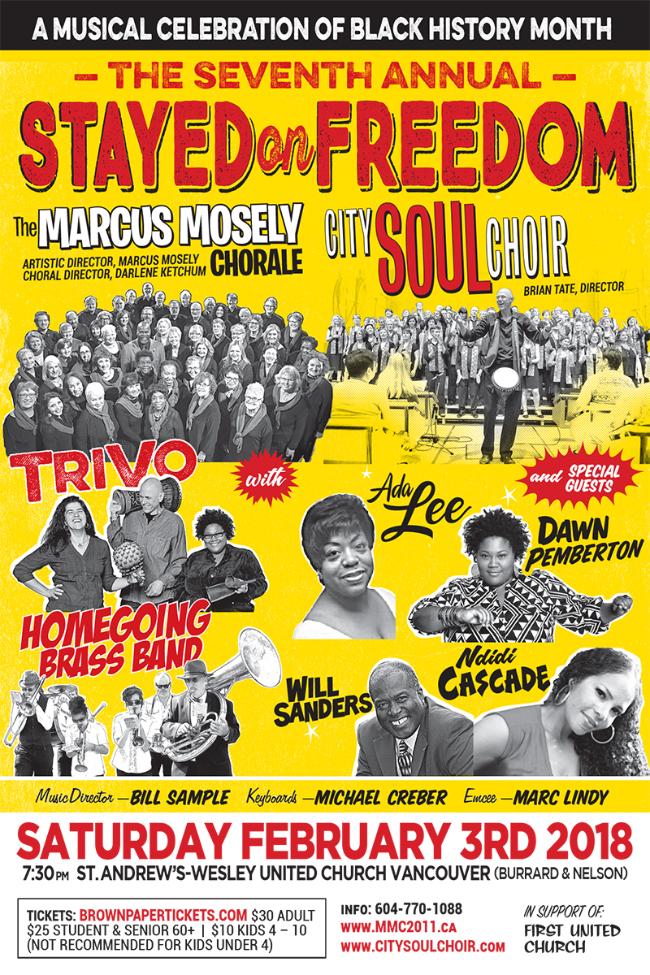 Join us for the 7th annual STAYED ON FREEDOM: A Musical Celebration of Black History Month.
This concert features a rich tapestry of musical styles drawn from Black traditions. The annual event is a co-production of The Marcus Mosely Chorale and The City Soul Choir. Aside from the two choirs you'll hear the vocal trio TriVo (Dawn Pemberton, Karla Mundy, and Brian Tate), and the Homegoing Brass Band.
Very special guest solo artists include Ada Lee, Dawn Pemberton, Ndidi Cascade and Will Sanders (of Sojourners fame). Local keyboard wizards Bill Sample and Michael Creber will provide accompaniment. Making his return appearance as emcee is Marc Lindy (recently retired co-host of Co-op Radio's Gospel Train, and sousaphone player in the Homegoing Brass Band).
Every year this concert raises funds for a good cause; partial proceeds this year will support First United Church and its vital community programs in the Downtown Eastside.
UPCOMING CONCERTS:
THE 7TH ANNUAL MUSICAL CELEBRATION OF BLACK HISTORY MONTH
A co-production by The Marcus Mosely Chorale and City Soul Choir
St Andrew's-Wesley United Church, Burrard & Nelson, Vancouver
Partial proceeds from STAYED ON FREEDOM will help support the vital programs at First United Church.
***
ANNUAL SPRING CONCERT
7:30 PM, Friday May 4, 2018
Canadian Memorial
United Church
W15th & Burrard
Details TBA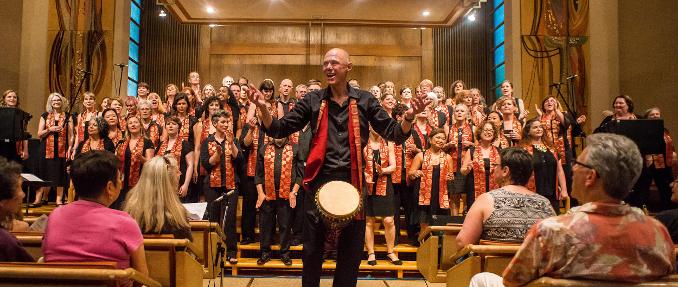 CITY SOUL CHOIR
Big sound, big soul!

When City Soul Choir sings, an earth-shaking vibration of joy hits the listener. The power and energy of this group of talented musicians is very heavy.
- Tom Arntzen
What a great evening! Recently, I heard the City Soul Choir, conducted by Brian Tate, in a concert of songs that was both moving and a joy to hear! Brian and Patricia Tate have created in the City Soul Choir one of the most exciting musical programs Vancouver has to offer.
- Leon Bibb
The City Soul Choir has the power to draw you in close. Under the masterful direction of Brian Tate, everyday people find their extraordinary voices, and what a pleasure that is to behold.
- Marc Lindy, Homegoing Brass Band; host of Co-op Radio's Gospel Train
Want a taste of City Soul Choir's soul, gospel, world grooves? Listen . . .


A Tribute to the Queen of Soul.mp3
Soon Ah Will Be Done.MJF.2011mp3.mp3
South Africa's second national anthem SHOSHOLOZA.mp3