CITY SOUL CHOIR
Big sound, big soul!
Thanks to everyone who came out to our last concert with Brian Tate! The last 10 years have been so much fun with Brian at the helm. Thank you, Brian, you are a wonder!
Patricia and Brian Tate founded the City Soul Choir in January of 2010. As they now live in Victoria, the Tates are ready to pass on the CSC baton...although Patricia will remain on as choir manager until the end of 2019.
The fun will continue this fall with the exuberant Karla Mundy taking over as guest conductor. Welcome, Karla! Karla is well known in the music community, both locally and worldwide, as a musician, teacher and choral director. She has some big boots to fill, but the CSC is confident that Karla will bring her own brand of enthusiasm and groove to the choir.
Brian and Karla are working together to choose repertoire for the fall 2019 term, and will likely also collaborate on auditions this June.
CSC fans: please rest assured that the vision of the CSC will remain the same in terms of type of repertoire, energy, community, fun and soulfulness. We look forward to the new energy Karla will bring to the CSC!
BRIAN TATE: 10 YEARS OF JOY!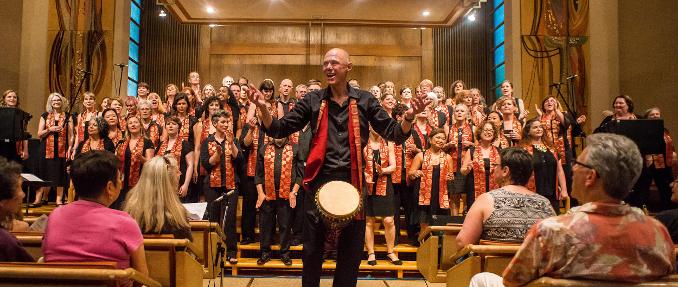 When City Soul Choir sings, an earth-shaking vibration of joy hits the listener. The power and energy of this group of talented musicians is very heavy.
- Tom Arntzen
What a great evening! Recently, I heard the City Soul Choir, conducted by Brian Tate, in a concert of songs that was both moving and a joy to hear! Brian and Patricia Tate have created in the City Soul Choir one of the most exciting musical programs Vancouver has to offer.
- Leon Bibb
The City Soul Choir has the power to draw you in close...everyday people find their extraordinary voices, and what a pleasure that is to behold.
- Marc Lindy, Homegoing Brass Band
Want a taste of City Soul Choir's soul, gospel, pop grooves? Listen . . .


A Tribute to the Queen of Soul.mp3
The CSC in Oakland! Ready For Joy and Make Me Over.