The City Soul Choir and music director, Brian Tate
invite you to
NEVER GIVE UP!
Songs of Hope and Inspiration
Join the City Soul Choir in a concert featuring powerful music of hope and inspiration. This evening will light a spark, kindle a flame, touch your heart, and energize your spirit! At a time of year that can be challenging for many, the songs in 'Never Give Up!' have been chosen to empower and uplift. Come and get your joy on as the 100-voice choir performs gospel, R&B, pop and world music, accompanied by the best band in town—Michael Creber on piano, Bill Sample on keyboards, Brent Gubbels on bass, and Craig Scott on drums. This concert typically sells out, so buy your tickets early online at www.citysoulbrownpapertickets.com
Saturday, December 5, 2015, 7:30 PM
Michael J. Fox Theatre
7373 MacPherson Avenue, Burnaby (just north of Rumble)
Map: http://www.michaeljfoxtheatre.ca/location-directions
Tickets: $30 Regular; $25 Students & Seniors
Purchase tickets online at: www.citysoulbrownpapertickets.com
Info: csctickets@gmail.com
Website: www.citysoulchoir.com
Facebook: www.facebook.com/CitySoulChoir
Twitter: @CitySoulChoir
City Soul Choir
...not your average choir!
What a great evening! Recently, I heard the City Soul Choir, conducted by Brian Tate, in a concert of songs that was both moving and a joy to hear! Brian and Patricia Tate have created in the City Soul Choir one of the most exciting musical programs Vancouver has to offer.
- Leon Bibb
The City Soul Choir has the power to draw you in close. Under the masterful direction of Brian Tate, everyday people find their extraordinary voices, and what a pleasure that is to behold.
- Marc Lindy, Co-op Radio Gospel Train
Want a taste of City Soul Choir's soul, gospel, world grooves? Listen . . .
A Tribute to the Queen of Soul.mp3
Soon Ah Will Be Done.MJF.2011mp3.mp3
South Africa's second national anthem SHOSHOLOZA.mp3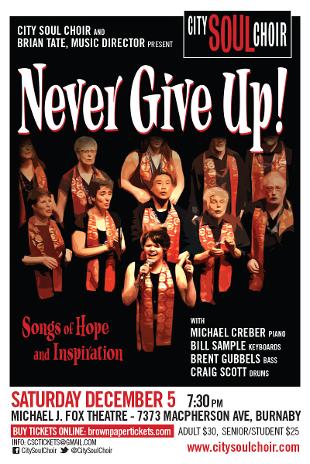 Upcoming concerts, 2015-2016
Save the dates! Details will be announced close to the concert dates.
NEVER GIVE UP!
Songs of Hope and Inspiration
SATURDAY, DECEMBER 5, 7:30 PM
Michael J Fox Theatre
7373 MacPherson Avenue, Burnaby
(see details in left hand column)
---

Sat Jan 30/16: 5th annual Black History Month co-production with the Marcus Moseley Chorale and other guests, St. Andrew's-Wesley United Church, Vancouver. Details TBA.

---

Fri Jun 3 & Sat Jun 4 at the Unitarian Church of Vancouver. Details TBA.