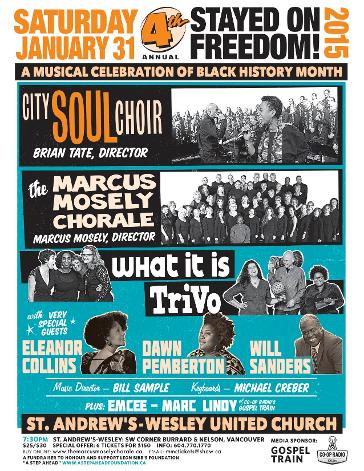 City Soul Choir

...not your average choir!

What a great evening! Recently, I heard the City Soul Choir, conducted by Brian Tate, in a concert of songs that was both moving and a joy to hear! Brian and Patricia Tate have created in the City Soul Choir one of the most exciting musical programs Vancouver has to offer.
- Leon Bibb
City Soul Choir is over 90 singers who love music that lifts the soul, moves the body, and fills the heart. We are a secular choir whose repertoire comes from the world's great inspirational music traditions: R&B, world, soul, gospel, funk, spirituals, and more. We sing of joy, hope, and social justice. Our audiences love to groove, move, and feel the joy!

We are led by internationally respected director, composer, and arranger Brian Tate, who launched the choir in February 2010. We are an auditioned, adult community choir with a gifted group of soloists including Cass King, Mimi Beyene, Patti Powell, Daniel Frankel, David Symons, Gisele Comeau, Carol Wiedemann, Steven Schelling, and plenty more.
Want a taste of City Soul Choir's soul, gospel, world grooves? Listen...
A Tribute to the Queen of Soul.mp3
South Africa's second national anthem SHOSHOLOZA.mp3
The City Soul Choir has the power to draw you in close. Under the masterful direction of Brian Tate, everyday people find their extraordinary voices, and what a pleasure that is to behold.
- Marc Lindy, Co-op Radio Gospel Train

The City Soul Choir (director - Brian Tate) and The Marcus Mosely Chorale (directors - Marcus Mosely, Darlene Ketchum, Bill Sample) are pleased to announce their 4th annual co-production: STAYED ON FREEDOM! A Musical Celebration of Black History Month. The evening will feature a rich tapestry of musical styles drawn from Black traditions. Aside from the two choirs you'll hear the vocal trio TriVo (Dawn Pemberton, Karla Mundy, Brian Tate); and the vocal quartet What It Is (Mimi Beyene, Cass King, Patti Powell, Carol Wiedemann). Very special guest solo artists include Dawn Pemberton, who has just released her soulful, long-awaited debut CD "Say Somethin'" to international acclaim; gospel vocalist Will Sanders of The Sojourners fame; and the return of Vancouver's elegant first lady of jazz, Eleanor Collins, who in 2014 was named a Member of the Order of Canada. Local keyboard wizards Bill Sample and Michael Creber will provide accompaniment. Our emcee is Marc Lindy of Co-op Radio's Gospel Train; Marc is a tireless supporter of music and choirs in Vancouver. This event is a partial fundraiser to honour Leon Bibb and support his foundation 'A Step Ahead', an anti-racism school program (www.astepaheadfoundation.ca).
The 4th Annual
STAYED ON FREEDOM!
A Musical Celebration of
Black History Month
Saturday, January 31, 2015
7:30 PM
St. Andrew's-Wesley United Church
SW corner of Burrard & Nelson, Vancouver
$30 Adults/$25 Students & Seniors
Special offer: 6 tickets for $150 (can be used for student, senior,
or adult)
Tickets available online at: www.themarcusmoselychorale.ca
INFO: 604-770-1770; or email: mmctickets@shaw.ca
Facebook Event Page: https://www.facebook.com/events/1582781795267970/

***
Our two spring concerts are on Friday May 29 and Saturday May 30 of 2015 at the Unitarian Church of Vancouver, 49th and Oak. 7:30 PM.
The tentative date for our late fall 2015 concert is Sat. Dec. 5.

The CSC'S first CD, SOUL TO GO, will be on sale for just $10 at the concert.
Makes a great gift!