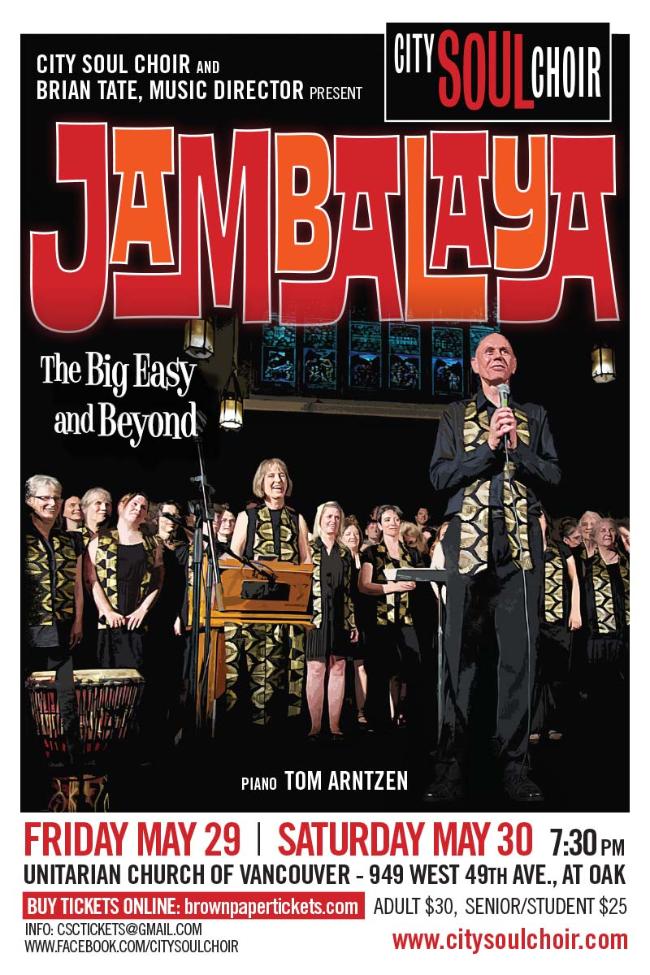 Join music director Brian Tate and the City Soul Choir for JAMBALAYA - The Big Easy and Beyond. The choir will serve you up a spicy stew of songs, featuring music from its April adventure to New Orleans, stirred into a saucy mix of gospel, blues, and Motown; plus music from Haiti, South Africa, Australia, and more! With Tom Arntzen on piano. You'll have your choice between two evening concerts: Friday, May 29 or Saturday May 30. But you might just like JAMBALAYA so much, you'll want to attend both!
Info: csctickets@gmail.com
Twitter: @CitySoulChoir
www.facebook.com/citysoulchoir
www.citysoulchoir.com
Buy Tickets Online at Brown Paper Tickets: http://www.brownpapertickets.com/event/1376703

Upcoming . . .
Just announced! The CSC will perform a free noon-hour concert at the TD Vancouver International Jazz Festival's 'Gospel Comes Home' series. St. Andrew's Wesley United, Church Burrard and Nelson, 12:00 noon on Tuesday, June 30--the last day of the festival. See you there!


City Soul Choir
...not your average choir!
What a great evening! Recently, I heard the City Soul Choir, conducted by Brian Tate, in a concert of songs that was both moving and a joy to hear! Brian and Patricia Tate have created in the City Soul Choir one of the most exciting musical programs Vancouver has to offer.
- Leon Bibb
The City Soul Choir has the power to draw you in close. Under the masterful direction of Brian Tate, everyday people find their extraordinary voices, and what a pleasure that is to behold.
- Marc Lindy, Co-op Radio Gospel Train
Want a taste of City Soul Choir's soul, gospel, world grooves? Listen . . .
A Tribute to the Queen of Soul.mp3
Soon Ah Will Be Done.MJF.2011mp3.mp3
South Africa's second national anthem SHOSHOLOZA.mp3