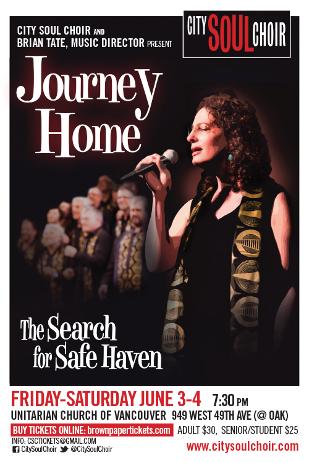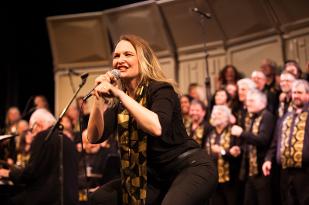 City Soul Choir
...not your average choir!
What a great evening! Recently, I heard the City Soul Choir, conducted by Brian Tate, in a concert of songs that was both moving and a joy to hear! Brian and Patricia Tate have created in the City Soul Choir one of the most exciting musical programs Vancouver has to offer.
- Leon Bibb
The City Soul Choir has the power to draw you in close. Under the masterful direction of Brian Tate, everyday people find their extraordinary voices, and what a pleasure that is to behold.
- Marc Lindy, Co-op Radio Gospel Train
Want a taste of City Soul Choir's soul, gospel, world grooves? Listen . . .
A Tribute to the Queen of Soul.mp3
Soon Ah Will Be Done.MJF.2011mp3.mp3
South Africa's second national anthem SHOSHOLOZA.mp3
SPRING CONCERTS 2016
JOURNEY HOME — The Search for
Safe Haven
Journeys, both literal and metaphorical, have been immortalized in story and song throughout human history. As the refugee crisis in our world continues, the City Soul Choir presents an a cappella concert of songs that bring to life the perilous journeys that we take to find a new home in a safe place. We invite you to share in the experience of these powerful stories of danger and tragedy, steadfastness and resilience, hope and joyful beginnings.
FRIDAY, JUNE 3
SATURDAY, JUNE 4
7:30 PM
Unitarian Church of Vancouver
949 West 49th Ave
(NE corner of Oak and W49th)
TICKETS
Adults: $30
Seniors 60+/Students: $25
Special offer: Purchase 6 or more tickets of any type, and pay only $25 each.
Twitter: @CitySoulChoir
***
WEDNESDAY, JUNE 15
Benefit for the Stephen Lewis Foundation, produced by the Tikum Olam Gogos. Details TBA.
***
WEDNESDAY, JUNE 29 - JAZZ FEST!
12 - 1 PM, St. Andrew's-Wesley United Church, SW corner of Burrard and Nelson. Free lunch-hour concert series (donations gratefully accepted!).