Tickets still available for the 6th Annual 'Stayed on Freedom' concert Saturday, January 28 at 7:30 PM! Gather your friends and buy a bundle of 6 or more tickets and pay only $25 each. Less than a week to go before this joyful event!
Read more below the poster. Tickets now on sale at Brown Paper Tickets!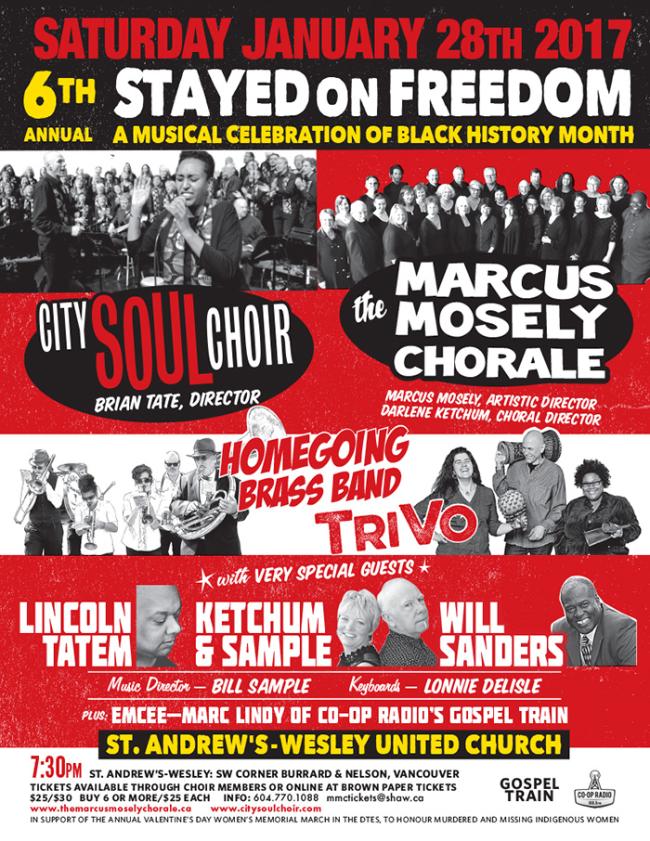 CITY SOUL CHOIR
Big sound, big soul...not your average choir!

When City Soul Choir sings, an earth-shaking vibration of joy hits the listener. The power and energy of this group of talented musicians is very heavy.
- Tom Arntzen
What a great evening! Recently, I heard the City Soul Choir, conducted by Brian Tate, in a concert of songs that was both moving and a joy to hear! Brian and Patricia Tate have created in the City Soul Choir one of the most exciting musical programs Vancouver has to offer.
- Leon Bibb
The City Soul Choir has the power to draw you in close. Under the masterful direction of Brian Tate, everyday people find their extraordinary voices, and what a pleasure that is to behold.
- Marc Lindy, Homegoing Brass Band; host of Co-op Radio's Gospel Train
Want a taste of City Soul Choir's soul, gospel, world grooves? Listen . . .
A Tribute to the Queen of Soul.mp3
Soon Ah Will Be Done.MJF.2011mp3.mp3
South Africa's second national anthem SHOSHOLOZA.mp3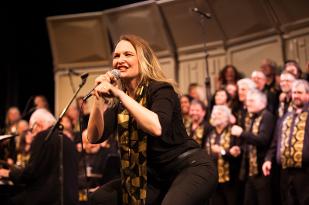 UPCOMING CONCERTS
STAYED ON FREEDOM!
Join the Marcus Mosely Chorale and the City Soul Choir for the 6th annual kick-off concert to Black History Month.
Featured guest performers include the Homegoing Brass Band, TriVo, Lincoln Tatem, Ketchum & Sample, and Will Sanders. With Bill Sample and Lonnie Delisle on piano/keyboards.
Each year this concert raises funds for a good cause. This year partial proceeds will support the Annual Valentines Day Memorial March in the DTES, to remember and honour murdered and missing indigenous women.
SPRING CONCERT 2017
SATURDAY,
MAY 13, 7:30 PM CANADIAN MEMORIAL UNITED
15TH & BURRARD.

Please stay tuned to our website and Facebook page for event details. Other performances may arise during the spring term.