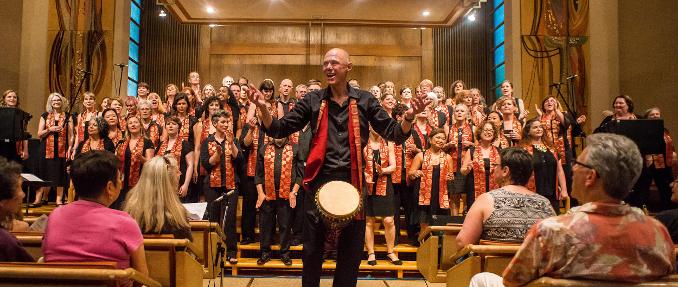 CITY SOUL CHOIR
Big sound, big soul!

When City Soul Choir sings, an earth-shaking vibration of joy hits the listener. The power and energy of this group of talented musicians is very heavy.
- Tom Arntzen
What a great evening! Recently, I heard the City Soul Choir, conducted by Brian Tate, in a concert of songs that was both moving and a joy to hear! Brian and Patricia Tate have created in the City Soul Choir one of the most exciting musical programs Vancouver has to offer.
- Leon Bibb
The City Soul Choir has the power to draw you in close. Under the masterful direction of Brian Tate, everyday people find their extraordinary voices, and what a pleasure that is to behold.
- Marc Lindy, Homegoing Brass Band; host of Co-op Radio's Gospel Train
Want a taste of City Soul Choir's soul, gospel, world grooves? Listen . . .


A Tribute to the Queen of Soul.mp3
Soon Ah Will Be Done.MJF.2011mp3.mp3
South Africa's second national anthem SHOSHOLOZA.mp3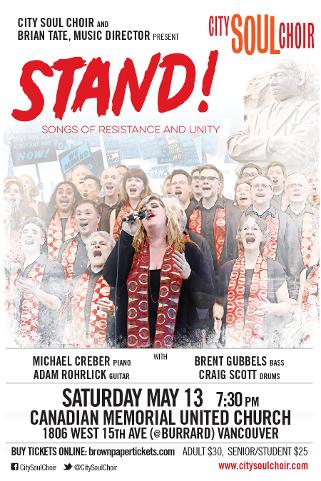 SPRING CONCERT!
SAT, MAY 13, 7:30 PM
CANADIAN MEMORIAL UNITED CHURCH
W 15TH & BURRARD, VANCOUVER
$30/$25
Buy 6 or more tix, pay only $25 each.
(Kids 10 and under free, but please be respectful and courteous. If your children are crying etc, please take them to the lobby or outside until they settle. Also, kids may have to sit on laps if the show is sold out. Thanks for your cooperation!)
Tickets will go on sale April 2nd at Brown Paper Tickets.
also...
VANCOUVER INTERNATIONAL JAZZ FESTIVAL!
NOON-HOUR JAZZ VESPERS
ST. ANDREW'S-WESLEY UNITED CHURCH
SW CORNER OF NELSON & BURRARD, VANCOUVER
FREE SHOW (DONATIONS GRATEFULLY ACCEPTED)