Thanks for coming out to our Dec 3rd HOLD ON concert! Stay tuned for 2017 events.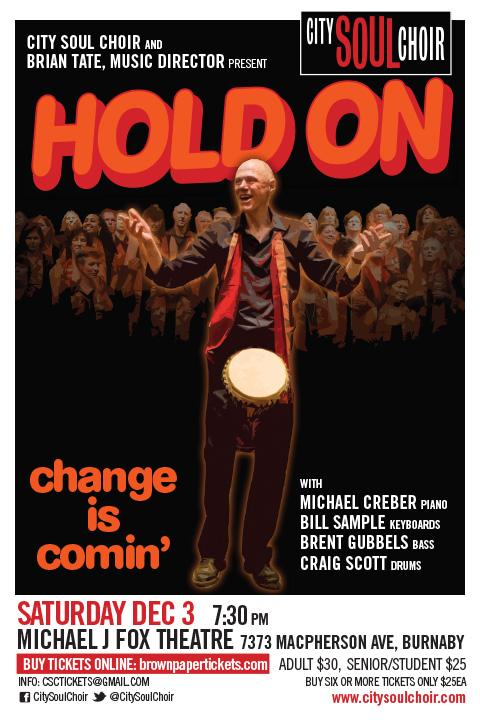 City Soul Choir
...not your average choir!
What a great evening! Recently, I heard the City Soul Choir, conducted by Brian Tate, in a concert of songs that was both moving and a joy to hear! Brian and Patricia Tate have created in the City Soul Choir one of the most exciting musical programs Vancouver has to offer.
- Leon Bibb
The City Soul Choir has the power to draw you in close. Under the masterful direction of Brian Tate, everyday people find their extraordinary voices, and what a pleasure that is to behold.
- Marc Lindy, Co-op Radio Gospel Train
Want a taste of City Soul Choir's soul, gospel, world grooves? Listen . . .
A Tribute to the Queen of Soul.mp3
Soon Ah Will Be Done.MJF.2011mp3.mp3
South Africa's second national anthem SHOSHOLOZA.mp3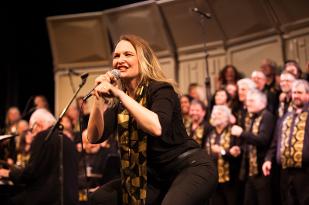 UPCOMING CONCERTS
LOOKING AHEAD TO 2017...THE 6TH ANNUAL BLACK HISTORY MONTH KICK-OFF (STAYED ON FREEDOM!) WILL BE ON SATURDAY, JANUARY 28TH, 7:30 PM AT ST. ANDREW'S-WESLEY UNITED CHURCH, BURRARD AND NELSON. THIS IS A CO-PRODUCTION WITH THE MARCUS MOSELY CHORALE, AND MANY SPECIAL GUESTS.

THE CSC'S SPRING CONCERT IN 2017 WILL BE ON SATURDAY, MAY 13, 7:30 PM AT CANADIAN MEMORIAL UNITED CHURCH AT 15TH AND BURRARD.

STAY TUNED HERE AND WATCH OUR FACEBOOK PAGE FOR DETAILS.
OTHER FUNDRAISERS, ETC. MAY ARISE DURING THE SEASON.