UPCOMING PERFORMANCES
BUILDING BRIDGES
Friday November 30 & Saturday December 1
7:30 PM
Canadian Memorial United Church
SW corner, W15th @ Burrard, Vancouver
Join Brian Tate and the City Soul Choir in "Building Bridges", two jubilant evening concerts that feature songs about reaching out, risking perilous crossings, and making connections. We pay tribute to the great Aretha Franklin, Leonard Cohen, Michael Jackson, and Sharon Jones. You'll hear songs about rivers, bridges, struggles, and victories. Through this music, the choir's vision is to inspire and to build bridges between us all.
with
Michael Creber, keyboards
Andreas Schuld, guitar
Brent Gubbels, bass
Craig Scott, drums
$30 adults
$25 seniors age 60+ and students
$15 kids age 5-10 inclusive.
(Not recommended for kids under 5 years old.)
Click here for TICKETS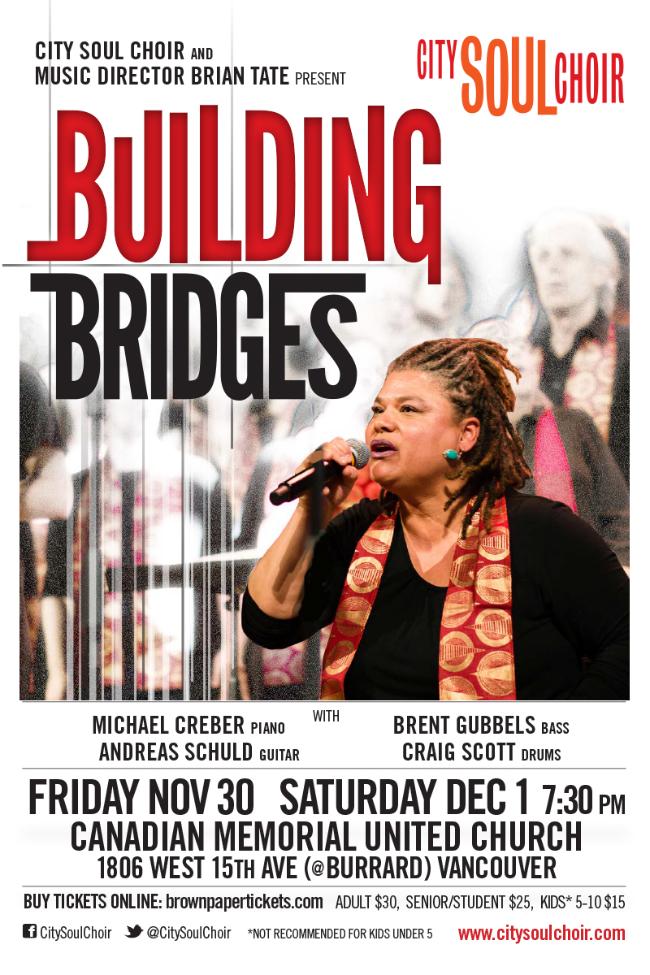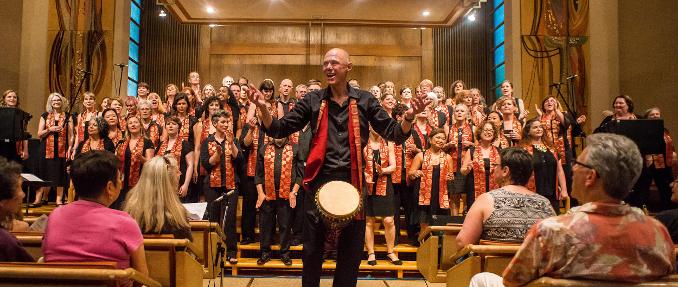 CITY SOUL CHOIR
Big sound, big soul!

When City Soul Choir sings, an earth-shaking vibration of joy hits the listener. The power and energy of this group of talented musicians is very heavy.
- Tom Arntzen
What a great evening! Recently, I heard the City Soul Choir, conducted by Brian Tate, in a concert of songs that was both moving and a joy to hear! Brian and Patricia Tate have created in the City Soul Choir one of the most exciting musical programs Vancouver has to offer.
- Leon Bibb
The City Soul Choir has the power to draw you in close. Under the masterful direction of Brian Tate, everyday people find their extraordinary voices, and what a pleasure that is to behold.
- Marc Lindy, Homegoing Brass Band; host of Co-op Radio's Gospel Train
Want a taste of City Soul Choir's soul, gospel, world grooves? Listen . . .


A Tribute to the Queen of Soul.mp3
South Africa's second national anthem SHOSHOLOZA.mp3