UPCOMING CONCERTS
SORRY, THIS CONCERT IS SOLD OUT. THANK YOU, FANS!
CITY SOUL CHOIR & MUSIC DIRECTOR BRIAN TATE
present
TAKE DOWN THESE WALLS—CD RELEASE & CONCERT
Celebrate with the City Soul Choir as they launch their new CD, Take Down These Walls, at their spring concert. You'll hear a powerful mix of songs of resistance and hope, drawn from pop, funk, R & B classics, spirituals, gospel, music from South Africa, and more. New CDs will be available so you can continue to groove long after the concert!
Friday, June 15, 7:30 PM
Canadian Memorial United Church
1806 W15th Ave, Vancouver SW corner W15th & Burrard
-------------------------------------
VANCOUVER INTERNATIONAL JAZZ FESTIVAL
GOSPEL COMES HOME SERIES
WED, JUNE 27, NOON - 1 PM
FREE CONCERT (DONATIONS GRATEFULLY ACCEPTED)
ST. ANDREW'S-WESLEY UNITED CHURCH
-------------------------------------------------
Saturday, July 28
The new Fort Langley Jazz and Arts Festival
3 - 4 PM, Main Stage by the Community Hall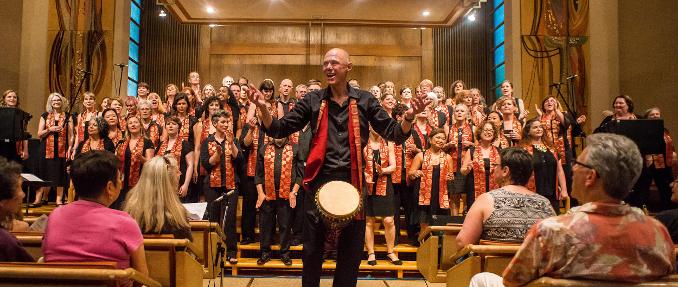 CITY SOUL CHOIR
Big sound, big soul!

When City Soul Choir sings, an earth-shaking vibration of joy hits the listener. The power and energy of this group of talented musicians is very heavy.
- Tom Arntzen
What a great evening! Recently, I heard the City Soul Choir, conducted by Brian Tate, in a concert of songs that was both moving and a joy to hear! Brian and Patricia Tate have created in the City Soul Choir one of the most exciting musical programs Vancouver has to offer.
- Leon Bibb
The City Soul Choir has the power to draw you in close. Under the masterful direction of Brian Tate, everyday people find their extraordinary voices, and what a pleasure that is to behold.
- Marc Lindy, Homegoing Brass Band; host of Co-op Radio's Gospel Train
Want a taste of City Soul Choir's soul, gospel, world grooves? Listen . . .


A Tribute to the Queen of Soul.mp3
South Africa's second national anthem SHOSHOLOZA.mp3